Hon'ble Chief Minister acknowledges TAAI for the handholding
TAAI at Kashmir after 30 Years
Delegates amazed with TAAI's arrangements
The 3 day most historic TAAI Convention, an eagerly awaited event of the Travel & Tourism industry of India, resulted in resounding success. The 64th Convention and Exhibition of TAAI was organized at the most prestigious and mesmerizing city, Srinagar, "the crown jewel" of Kashmir valley situated on the banks of Jhelum River flanked by the snow-clad mountains from 27th to 30th March, 2018. The convention was ably supported by Ministry of Tourism, Jammu & Kashmir. The event received excellent cooperation and support from the Convention Hotels; Hotel Associations; House Boat Owners Association and other travel and tourism associations of J&K. TAAI J&K Chapter played the role of coordinating committee for the convention and delivered a great event.
The Convention was inaugurated by Her Excellency, Madam Mehbooba Mufti, Chief Minister, Jammu and Kashmir. She acknowledged TAAI for the hand-holding extended as she delivered a touching address to the delegates and compared Kashmir with "Jannat". Minister for Tourism, J&K, Mr Tassaduq Hussain Mufti who addressed the convention, was present along with six other ministers of J&K. State Minister for Tourism, Ms Preeti Seth also addressed the audience.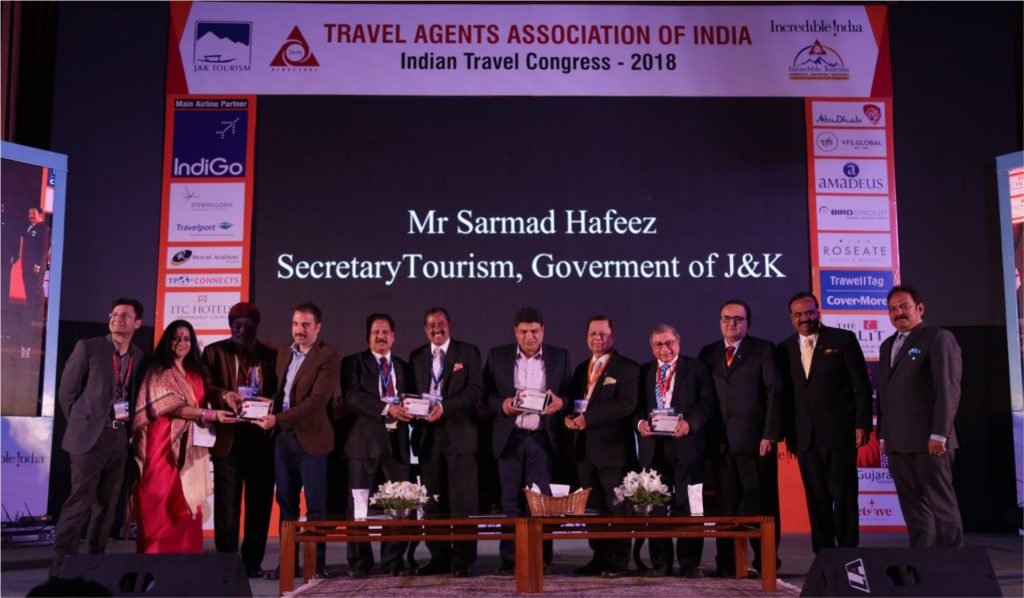 In the words of TAAI President, Sunil Kumar, it offered to Jammu & Kashmir – Visibility; Connect and Opportunity.  The manner in which the event was covered by the Media and the industry partners through digital and social media connect, brought in extensive visibility that Kashmir is a safe place for tourists and such large MICE events can be held here. It offered J&K with a huge connect – with the industry; with the Media and with the world in general. It is now an opportunity before J&K to optimize the TAAI presence in Kashmir where the TAAI convention was held most successfully with over 650 delegates participation from across India and some countries of the world.
Over 45 media leaders travelled with TAAI to Srinagar to cover the event and they were inspired by the hi-quality convention that TAAI presented. The Convention brought to the forefront the most outstanding beauty of Kashmir; its serenity; awesome scenic wonder and the warmth expressed by the local citizens who were absolutely courteous to offer the delegates a life-time experience.